Melissa Lane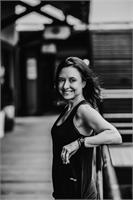 Melissa is a Barboursville, WV native and a Certified Cycling instructor. She graduated from Marshall University with her BBA in 1998 and an MBA in 2001. She became a fitness enthusiast shortly after graduation, whether hiking around the hills where she grew up, running outside or spending time in the gym. She actively enjoyed running 5k races and completed 3 half marathons. When an ankle injury in 2016 kept her from running, a friend suggested she try Brown Dog and she's been here ever since. Her favorite class is Cycling combined with anything - whether it's fusion, barre, or yoga. She's very excited to share her love of cycling with her students and show them what a fun and rewarding experience it can be!
Melissa Lane instructs the following:
This 45-minute cycling class combines high-energy music with a dynamic workout that will energize your mind, body and spirit. In this class, you will find not only high-intensity cardio but you will experience upper body strength training and ride-to-the-rhythm choreography. Set your intention, unleash your inner power and ride, climb, sprint through the journey ahead.