Josi Boukhemis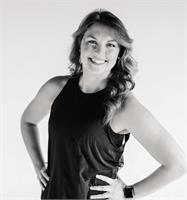 Josi is a 2010 graduate of Marshall University with both her undergraduate and graduate work in Elementary and K- Adults Special Education. During her time at Marshall Josi was a cheerleader for 4 years and had a small stand in role in the movie " We are Marshall." After marrying her husband in 2011, They moved to Morgantown, West Virginia. Here she deepened her practice of yoga for 6 years. Then she and her husband moved to Sacramento, California. This is where Josi received her 200 YTT certification and Reiki Level 1 certification. Josi went on to teach corporate yoga classes after her training. "Being that far away from home made me homesick, I needed to find a home and my mat and yoga become my home." Josi states of her time living in California and Nevada.
Through the gift of yoga she practiced and found her "home" during a 2 week business trip to Australia for her husband. In Australia, Josi practiced daily and learned from the staff in Australia as she had just finished her 200 hour YTT and shared this with the staff.
"It is amazing to be able to travel to different parts of the world and still find your home with yoga."
Josi hopes to create the same experience for you as she has encountered throughout her yoga journey. "I hope for each class to feel like a journey for my students, but one that always comes back to the comforts of home"
Josi Boukhemis instructs the following:
'Tis the season for all things children and Christmas! Bring your little one(s) down to Heritage Station on Saturday, December 22 at 11 am for an hour of yoga and fun followed by a visit with Santa AND cookies and cocoa at our new neighbors, Moonlight Cookies! This event will be going on at the same time as our Cycle, Cookies & Cocoa so that moms and dads can have some fun, too!

Cost: $25

Combination pricing is available for one adult and one child for $40.




This heated class is designed to spark the creative energy within each of us. The practices link the movement of the body with the power of the breath. This class is available to all, with modifications and variations of poses offered throughout the class. The practices build core strength, improve flexibility, increase the body's energy and calm the mind by focusing on the present moment and breath. Temperature is between 75-85 degrees. A towel and water are recommended.




This all-levels class will awaken you in mind, body and spirit, with yoga postures and powerful intention. This flow-style class will help you build strength, increase flexibility and find focus. Moderately-paced and open to everyone, this one-hour class allows students to learn the fundamental yoga postures and principles that create a successful and effective yoga practice.