Kai Blankenship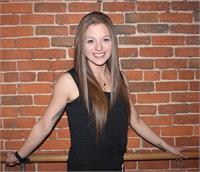 Kai grew up traveling the world training to be a professional ballerina. After multiple foot injuries, she stopped dancing, went on to graduate school and moved to LA and began working in the fitness industry. This is where she fell in love with cycling and barre. Kai recently moved back home to Ashland from Lexington where she taught cycling, barre, & strength training. She is currently pursuing a Physical Therapy Assistant degree. She loves helping people become stronger and healthier so BDY is the perfect fit!
Kai Blankenship instructs the following:
This 45-minute cycling class combines high-energy music with a dynamic workout that will energize your mind, body and spirit. In this class, you will find not only high-intensity cardio but you will experience upper body strength training and ride-to-the-rhythm choreography. Set your intention, unleash your inner power and ride, climb, sprint through the journey ahead.




A high-energy, 45-minute group fitness class combining various modalities for strength, flexibility and cardiovascular endurance. BDY Fusion classes combine the use of barbells, kettlebells, dumbbells, resistance bands, the barre, and mini-trampolines for the best and most diverse high-intensity interval training. Shoes required.




This class is a combination of 30 minutes of cycling followed by 30 minutes of Barre. Cycle Barre is designed to tone, sculpt and add lean muscle to your legs while lifting your glutes. You'll use light hand weights for upper body work. The concentrated and precise movements in this class is perfect for any fitness level. Shoes required.




This workout is a uniquely fun, high-energy group fitness experience, which fuses exercise techniques from yoga, pilates, and ballet to tone your whole body without adding bulk. This class will utilize light weights, resistance bands, and small, controlled movements along with cardio intervals. Students may be barefoot or wear toe socks.




Cycle Fusion is designed to give you a total body workout. Spend the first 30 minutes of class with a combination of various weighted moves targeted to build muscular strength. The second 30 minutes of class will be spent on the bike focusing on interval training designed to improve cardiovascular endurance.