Ashton Akers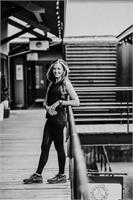 Ashton Akers is from Chesapeake, Ohio and fell in love with BDY Cycling in 2016. She is currently studying health science at MCTC. Ashton loves working out and spending time with her daughter Miya and her boyfriend Kevin. She believes that in addition to a good sweat that laughter is the best medicine. Prepare to sweat and have fun with Ashton!
Ashton Akers instructs the following:
This 45-minute cycling class combines high-energy music with a dynamic workout that will energize your mind, body and spirit. In this class, you will find not only high-intensity cardio but you will experience upper body strength training and ride-to-the-rhythm choreography. Set your intention, unleash your inner power and ride, climb, sprint through the journey ahead.