Terri Gray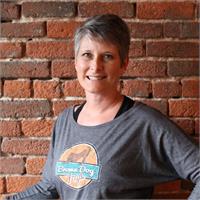 Terri Gray is a native of the tri-state area with a love for travel and adventure. She graduated with both Bachelor's and Master's degrees in Nutrition from Marshall University and completed her internship at Indiana University Medical Center. She has been a Registered Dietitian for over 20 years and has devoted her career to promoting health and wellness in the community through nutrition. Terri completed her 200-hour yoga teacher training at Brown Dog Yoga in August 2016. She understands that yoga feeds not only the body but the mind and spirit encouraging health and well-being.
Terri Gray instructs the following:
Our Heated BDY Barre Bounce Bounce Class is just as amazing as BDY Barre, but is performed in a heated room of 80-84 degrees AND with our rebounders for an increased metabolic burn. Heated BDY Barre Bounce fuses elements of Yoga, Pilates, cardio and Ballet into a total body workout that will change your body and get results.




This all-levels class will awaken you in mind, body and spirit, with yoga postures and powerful intention. This flow-style class will help you build strength, increase flexibility and find focus. Moderately-paced and open to everyone, this one-hour class allows students to learn the fundamental yoga postures and principles that create a successful and effective yoga practice.