Torie Evans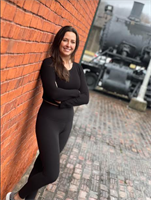 Torie is a Huntington native and 2013 Marshall University graduate. After completing her bachelor's degree in psychology, she began working recreational therapist at a local hospital. Torie began practicing yoga in college, but it wasn't until after her studies that she found herself in awe by the mental and physical benefits of her yoga practice. She became an RYT-200 certified teacher at BDY in 2015.
Torie Evans instructs the following:
Our Heated BDY Barre Bounce Class is just as amazing as BDY Barre, but is performed in a heated room of 80-84 degrees for an increased metabolic burn. Heated BDY Barre fuses elements of Yoga, Pilates, cardio and Ballet into a total body workout that will change your body and get results.




Yoga Fusion blends vinyasa flow yoga with breathwork, plyometrics, core work, and strength training. Beginning with intention and connection with breath, this heated class uses classical yoga postures to challenge the entire body leaving you feeling strong and energized. This blending of techniques focuses on combining mind and body movement with the benefits of strength, cardiovascular endurance, balance and flexibility.




A high-energy, 45-minute group fitness class combining various modalities for strength, flexibility and cardiovascular endurance. BDY Fusion classes combine the use of barbells, kettlebells, dumbbells, resistance bands, the barre, and mini-trampolines for the best and most diverse high-intensity interval training. Shoes required.