Katrina Mailloux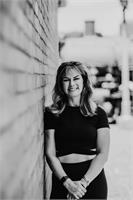 Katrina Mailloux, E-RYT-500, has been teaching yoga since 2008. She left her law practice to follow her passion in 2007 and has never looked back. Katrina is the founder and owner of Brown Dog Yoga. She first began practicing yoga in an effort provide a balance to her weight training and running regimen. She obtained her RYT-200 from the Breathing Space in Blacksburg, Virginia and completed her RYT-500 training at Yoga on High, in Columbus, Ohio. She holds an advanced certificate in Yoga Therapeutics and is the Director and Lead Trainer for the Brown Dog Yoga RYT 200-hour and Advanced RYT 300-hour Teacher Training Programs. Katrina welcomes all levels of yoga practitioner to her classes with modifications and creative sequencing. Katrina's loves helping her students find inner peace and balance and to be less about human "having" and human "doing," and more about human being.
Katrina Mailloux instructs the following:
Yoga Fusion blends vinyasa flow yoga with breathwork, plyometrics, core work, and strength training. Beginning with intention and connection with breath, this heated class uses classical yoga postures to challenge the entire body leaving you feeling strong and energized. This blending of techniques focuses on combining mind and body movement with the benefits of strength, cardiovascular endurance, balance and flexibility.




A high-energy, 45-minute group fitness class combining various modalities for strength, flexibility and cardiovascular endurance. BDY Fusion classes combine the use of barbells, kettlebells, dumbbells, resistance bands, the barre, and mini-trampolines for the best and most diverse high-intensity interval training. Shoes required.




This 45-minute cycling class combines high-energy music with a dynamic workout that will energize your mind, body and spirit. In this class, you will find not only high-intensity cardio but you will experience upper body strength training and ride-to-the-rhythm choreography. Set your intention, unleash your inner power and ride, climb, sprint through the journey ahead.




This workout is a uniquely fun, high-energy group fitness experience, which fuses exercise techniques from yoga, pilates, and ballet to tone your whole body without adding bulk. This class will utilize light weights, resistance bands, and small, controlled movements along with cardio intervals. Students may be barefoot or wear toe socks.




A New Year is upon us and in this 2-hour workshop we will explore a practice of tuning into to our inner voice to set our intentions for 2019. This workshop will include a meditation designed to let go of all things holding us back, a journaling exercise to process thoughts and feelings, and a gentle candlelit yoga practice to honor deeper connections to ourselves and to set our intentions in motion. We will complete this practice with an Om circle to send our intentions into the universe and conclude our time with a burning ceremony releasing the past.

Katrina Mailloux, E-RYT will lead this 2-hour workshop. She has successfully used these techniques for many years and manifested BDY Barboursville in 2018. What will you manifest in 2019?

Monday, December 31, 5:30 p.m.-7:30 p.m.

Cost $30; Early Bird Price through 12/25- $25




This heated class is designed to spark the creative energy within each of us. The practices link the movement of the body with the power of the breath. This class is available to all, with modifications and variations of poses offered throughout the class. This practice builds core strength, improves flexibility, increases the body's energy and calms the mind by focusing on the present moment and breath. Temperature is between 75-85 degrees. A towel and water are recommended.