Tiffany Barbera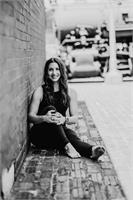 Tiffany is a Barboursville, WV native who grew up playing sports and spending her time outdoors. After graduating from WVU she moved to Washington, DC as a consultant and developed an interest in taking cycle and full body workout classes. After 7 years in DC she moved back to Huntington where she met her husband and started a family. Not long after she joined the Brown Dog Yoga family as she looked to improve her post-partum body and her sense of well being. As she witnessed her body transformation she became more and more interested in the science behind the exercises and turned her interest to teaching. Tiffany's goal is to give students the most bang for their buck and teach quality over quantity.
Tiffany Barbera instructs the following:
A high-energy, 45-minute group fitness class combining various modalities for strength, flexibility and cardiovascular endurance. Fusion formats include workouts combining barbells, kettlebells, dumbbells, resistance bands, barre, and mini-trampolines for best and most diverse high-intensity interval training. Shoes required.