Kristin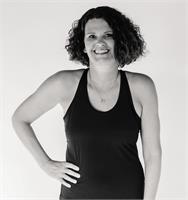 Kristin was born and raised in Iceland. She graduated as an elementary teacher from University of Iceland and taught 1st through 4th graders for 9 years before she moved to Barboursville, WV in August 2013 with her husband, Helgi and their three children, Sigmundur, Mal (Málfríður) and K.J (Kjartan). She has been practicing yoga since fall 2013 and finished her 200-hour yoga teacher training in September 2015 and her 300-hour yoga teacher training in January 2017 at Brown Dog Yoga. In addition to her love of yoga she loves to knit, run, read and spend time with her family. She loves being a part of the Brown Dog Yoga team and enjoys teaching her classes.
Kristin instructs the following:
This warm flow yoga class is a great way to build a consistent and strong yoga practice. Gently heated to help open the body- gently guided to help open the mind -all levels welcome!




This 45-minute class is quick, energizing and fun! Perfect for the working yogi or anyone needing a midday break. Get on the mat, free your mind and get back at it with this lunchtime treat.




Yin yoga is yoga at its coolest, deepest and stillest moments. Yin Yoga offers a much deeper access to the body and will open and release areas in need of more attention. In this class, you will learn how to access the deeper tissues such as the connective tissue and fascia and many of the postures focus on areas that encompass a join (hips, sacrum, spine) improving flexibility while helping to release chronically held tension developed through overuse of those muscles. This class will complement your Vinyasa Yoga, Cycling, or other athletic endeavors allowing you take your performance to the next level.