Makenzie Callicoat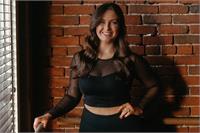 Makenzie is a student at Marshall University who has always had a passion for healthy living. As an instructor for Tailwind, she focuses on bringing a fresh and fun twist to her classes, while ensuring her students feel a sense of accomplishment after their workout. She believes in leading others to find their inner strength, and encourages them to push beyond their limits with love and compassion. Makenzie's love for exercise was amplified when she found Brown Dog Yoga during her Senior year of high school. She completed the Brown Dog Yoga Teacher Training Program in 2017 and hopes to inspire others to achieve their dreams and goals.
Makenzie Callicoat instructs the following:
Our Heated BDY Barre Bounce Class is just as amazing as BDY Barre, but is performed in a heated room of 80-84 degrees for an increased metabolic burn. Heated BDY Barre fuses elements of Yoga, Pilates, cardio and Ballet into a total body workout that will change your body and get results.




This special journey trains the mind, breath and body in a one-hour cycling and yoga experience. Spend 30 minutes on an intense and powerful bike ride to enliven the heart. Move to the mat for a 30 minute vibrant yoga flow and cool down to balance the body and calm the mind. The result is the perfect blend of bliss.




This workout is a uniquely fun, high-energy group fitness experience, which fuses exercise techniques from yoga, pilates, and ballet to tone your whole body without adding bulk. This class will utilize light weights, resistance bands, and small, controlled movements along with cardio intervals. Students may be barefoot or wear toe socks.