Terri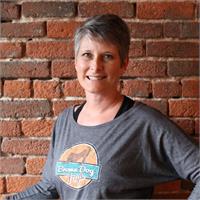 Terri Gray is a native of the tri-state area with a love for travel and adventure. She graduated with both Bachelor's and Master's degrees in Nutrition from Marshall University and completed her internship at Indiana University Medical Center. She has been a Registered Dietitian for over 20 years and has devoted her career to promoting health and wellness in the community through nutrition. Terri completed her 200-hour yoga teacher training at Brown Dog Yoga in August 2016. She understands that yoga feeds not only the body but the mind and spirit encouraging health and well-being.
Terri instructs the following:
This class will awaken you in mind, body and spirit, with strong and flowing postures, guided meditation, and powerful intention. This flow-style class will help you build strength, increase flexibility and find focus. Moderately-paced yet challenging, this one-hour class is all-levels allowing students to learn the fundamental postures and principles that create a successful and effective yoga practice.




Basic Flow uses a combination of simple postures, movement and breath to work on strength, flexibility and balance. The focus on alignment for every body type allows beginners to safely learn the basics. In this class, students will build strength and flexibility in a slower moving flow, where postures are generally held longer. Class will end with floor poses and a period of rest. The focus of this class is on moving slowly with breath control, awareness and alignment. This class is suitable for all levels, and is ideal for the beginning student.