Ray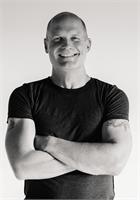 Ray is a dedicated dad of twin girls, a healthcare executive, and on of Tailwind's charter instructors. Ray takes a personal approach to cycling citing a quote from Maya Angelou as an influence when constructing his rides, "I've learned that people will forget what you said, people will forget what you did, but people will never forget how you make them feel." Ray encourages riders to make each class their own and focus on the needs of their mind, spirit and body as they cycle through the opportunities and challenges of everyday life. Ray enjoys an active lifestyle as an avid runner, yogi, and cyclist. A resident of Proctorville, Ohio with a successful career as an executive at Lab Corp, Ray believes in the importance of building a strong community that begins with the health and strength of the individual. His goal is for each cyclist to leave class feeling inspired and accomplished.
Ray instructs the following:
Our signature 45-minute class combines high-energy music with a dynamic workout that will energize your mind, body and spirit. Set your intention and ride, climb, sprint (and maybe even sing!) as our elite instructors motivate you through your experience.




This special journey trains the mind, breath and body in a one-hour cycling and yoga experience. Spend 30 minutes on an intense and powerful bike ride to enliven the heart. Move to the mat for a 30 minute vibrant yoga flow and cool down to balance the body and calm the mind. The result is the perfect blend of bliss.