Larie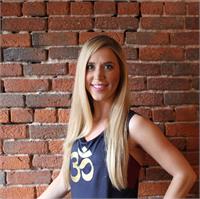 Larie Midkiff is an RYT-200, certified barre instructor, cycling instructor, and BDY Sculpt instructor. She enjoys spending time with her husband Wade and Baby Violet and enjoys the good vibes and cuisine at Backyard Pizza and/or Blacksheep Burritos. Her classes are about finding your limits and meeting them with a smile.
Larie instructs the following:
This 45 minute class is quick, energizing and fun! Perfect for the working yogi or anyone needing a midday break. Get on the mat, free your mind and get back at it with this lunchtime treat.




Our signature 45-minute class combines high-energy music with a dynamic workout that will energize your mind, body and spirit. Set your intention and ride, climb, sprint (and maybe even sing!) as our elite instructors motivate you through your experience.




A high-energy, 45-minute group fitness class combining various modalities for strength, flexibility and cardiovascular endurance. You won't see the same workout twice! Weights and mats provided in a group class format. Just bring yourself and have fun! Shoes required.




Cycling 30 is a fun and challenging 30-minute class that will energize and get you moving for your day. Classes are programmed to give you the most for your time and include core and strength components.




This workout is a uniquely fun, high-energy group fitness experience, which fuses exercise techniques from yoga, pilates, and cardio-sculpt to tone your whole body without adding bulk, burn lots of calories along the way. This class will alternate deep muscle-toning movements along with cardio intervals.