Cathy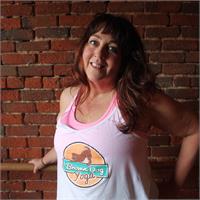 Cathy Snoddy is a native of Huntington, WV. She practiced yoga off and on for years before she felt like something was missing from her life and returned to yoga through the first Brown Dog Yoga RYT-200 Teacher Training program. She believes that laughter is important, even in her yoga practice and she loves to introduce the practice to people who think they can't do yoga. Most importantly, she strives to share the gift of yoga through it's power to help individuals tap into their inner beauty and light. Cathy is a certified instructor in iRest Yoga Nidra and has a 300-hour Advanced Yoga Teacher Training Certificate.
Cathy instructs the following:
Restorative yoga is a gentle form of yoga that uses props to encourage a deep state of relaxation in body and mind. By supporting various parts of the body with bolsters, blocks and blankets and holding these supportive poses for extended lengths of time, participants fully surrender to the pose and totally relax and let go. Restorative yoga can help relieve the effects of chronic stress and will move the spine in all directions to promote greater well-being. In this series of restful postures, we will "re-boot" and balance the nervous system, creating the perfect environment for healing. As we surrender to the poses, our muscles remain quiet and our breathing deep, smooth and regular – helping to lower blood pressure and heart rate, loosen up joints and ease bones. Throughout this 90 minute practice we will balance out the stresses and obligations of the holiday season. Take some time exploring yoga techniques which can be applied to everyday life for supporting a calm outlook. A perfect gift to yourself or someone you love.

Sunday, November 26, 1-2:30 p.m.

Cost is $25




Join us for a 45-minute, all-levels cycling class at 12 p.m. on Thanksgiving Day. Members sign up online, non-members pay just $10 . Bring a non-perishable food item for the Cridlin Food Pantry if you're feeling like extra lovin.'




Yin yoga is yoga at its coolest, deepest and stillest moments. Yin Yoga offers a much deeper access to the body and will open and release areas in need of more attention. In this class, you will learn how to access the deeper tissues such as the connective tissue and fascia and many of the postures focus on areas that encompass a join (hips, sacrum, spine) improving flexibility while helping to release chronically held tension developed through overuse of those muscles. This class will complement your Vinyasa Yoga, Cycling, or other athletic endeavors allowing you take your performance to the next level.




Our signature 45-minute class combines high-energy music with a dynamic workout that will energize your mind, body and spirit. Set your intention and ride, climb, sprint (and maybe even sing!) as our elite instructors motivate you through your experience.