Miranda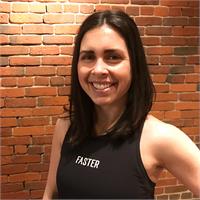 Miranda Mullins is a loving local and Huntington, WV native and 2010 graduate from Marshall University. Miranda took an interest in physical fitness and Brown Dog Yoga after moving back from Colorado in 2012. She is an RYT-200 yoga teacher and is one of Brown Dog's Barre instructors. Miranda also teaches for Tailwind Indoor Cycling and her passion is her students to be the best they can be while having fun and embracing life.
Miranda instructs the following:
This warm flow yoga class is a great way to build a consistent and strong yoga practice. Gently heated to help open the body- gently guided to help open the mind -all levels welcome!




Get up and get moving with this 45-minute heated all-levels, align-and-flow style class to wake you up and get you going and flowing into the rest of your day.




This workout is a uniquely fun, high-energy group fitness experience, which fuses exercise techniques from yoga, pilates, and cardio-sculpt to tone your whole body without adding bulk, burn lots of calories along the way. This class will alternate deep muscle-toning movements along with cardio intervals.




Our signature 45-minute class combines high-energy music with a dynamic workout that will energize your mind, body and spirit. Set your intention and ride, climb, sprint (and maybe even sing!) as our elite instructors motivate you through your experience.




This special journey trains the mind, breath and body in a one-hour cycling and yoga experience. Spend 30 minutes on an intense and powerful bike ride to enliven the heart. Move to the mat for a 30 minute vibrant yoga flow and cool down to balance the body and calm the mind. The result is the perfect blend of bliss.




Cycle Fusion is designed to give you a total body workout. Spend the first 30 minutes of class with a combination of various weighted moves targeted to build muscular strength. The second 30 minutes of class will be spent on the bike focusing on interval training designed to improve cardiovascular endurance.