Miranda Turley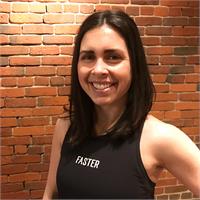 Miranda Mullins is a loving local and Huntington, WV native and 2010 graduate from Marshall University. Miranda took an interest in physical fitness and Brown Dog Yoga after moving back from Colorado in 2012. She is an RYT-200 yoga teacher and is one of Brown Dog's Barre instructors. Miranda also teaches BDY Cycling and her passion is her students to be the best they can be while having fun and embracing life.
Miranda Turley instructs the following:
Cycle Fusion is designed to give you a total body workout. Spend the first 30 minutes of class with a combination of various weighted moves targeted to build muscular strength. The second 30 minutes of class will be spent on the bike focusing on interval training designed to improve cardiovascular endurance.




Get moving with this 45-minute heated all-levels, flow style class to wake you up and get you going into the rest of your day. The postures will be linked with the breath in a so that you can begin your day feeling strong energized. The room is heated between 86-90 so bring a towel and water. All levels are welcome.




A high-energy, 45-minute group fitness class combining various modalities for strength, flexibility and cardiovascular endurance. Fusion formats include workouts combining barbells, kettlebells, dumbbells, resistance bands, barre, and mini-trampolines for best and most diverse high-intensity interval training. Shoes required.




This all-levels class will awaken you in mind, body and spirit, with yoga postures, guided meditation, and powerful intention. This flow-style class will help you build strength, increase flexibility and find focus. Moderately-paced and open to everyone, this one-hour class allows students to learn the fundamental yoga postures and principles that create a successful and effective yoga practice.




This class is a combination of 30 minutes of cycling followed by 30 minutes of Barre. Cycle Barre is designed to tone, sculpt and add lean muscle to your legs while lifting your glutes. You'll use light hand weights for upper body work. The concentrated and precise movements in this class is perfect for any fitness level. Shoes required.




This 45-minute cycling class combines high-energy music with a dynamic workout that will energize your mind, body and spirit. In this class, you will find not only high-intensity cardio but you will experience upper body strength training and ride-to-the-rhythm choreography. Set your intention, unleash your inner power and ride, climb, sprint through the journey ahead.




Our Heated BDY Barre Class is just as amazing as BDY Barre, but is performed in a heated room of 80-84 degrees for an increased metabolic burn. Heated BDY Barre fuses elements of Yoga, Pilates, and Ballet into a total body workout that will change your body and get results.